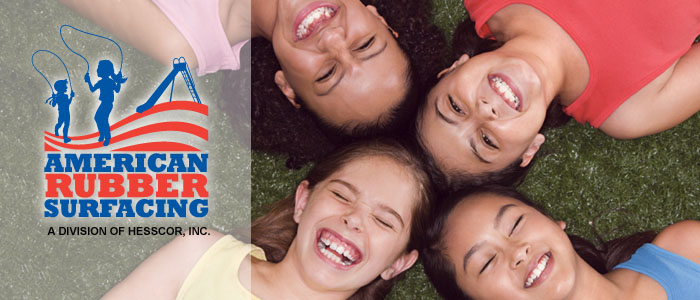 American Rubber Surfacing (ARS) is a leader in the playground surfacing industry with over 20 years of experience in design, installation and repair.
ARS products are manufactured by Hesscor, Inc. and installed directly from our factory using established field techniques developed through years of experience in all phases of playground construction and safety.
Our NPSI certified professionals are involved in all aspects of the construction process to ensure projects comply with all Americans with Disability Act (ADA) and ASTM F-1292 and F-1487 requirements.
Our proven manufacturing techniques, quality control and certified installers all played a critical role in our IPEMA certification. All materials used are continually weighed and measured, assuring a constant level of quality throughout the project.
ARS offers three types of superior play surfaces: EPDM, TPV and AmeriGrass. All 3 surfaces provide exceptional safety benefits and excellent durability. We use the highest quality materials available to provide the most durable surfacing product on the market by using only ISO 9001:2008 suppliers. ARS products have been through a vigorous series of testing and compliance procedures to verify that they meet ASTM guideline F-1292.
---
EPDM
EPDM is 100% recycled. An ecological solution to playground surfacing. With over 20 years of use in the market, EPDM  is the  'go to' safety surface for play areas. It comes in a wide variety of colors, so the possibilities are endless. For more information and a color chart of EPDM colors:  READ MORE
TPV
When you want bright and durable colors for playgrounds, parks, schools, splash pads or play areas, TPV  is a good choice. It's also compatible with EPDM rubber, making it a very versatile solution for your next surfacing project. For more information and a color chart of TPV colors: READ MORE
AmeriGrass
When you want the look of grass or turf without the instability and costly maintenance of natural surfaces, AmeriGrass should be a consideration. For a cost effective solution, install it over existing concrete or other stable surfaces. For a solution in busy traffic areas, a high bred system can be installed. READ MORE
Data Sheets
To view and download a list of .pdf material safety data sheets, technical data sheets and care and maintenance data sheets, for the products and materials Hesscor uses, CLICK HERE.
To see a photo gallery of different surfacings Hesscor has created, CLICK HERE.
Arizona Contractors License Class A – (ROC) 273645